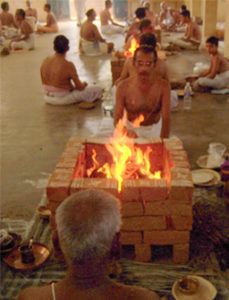 Om
I am not going to write about the power of the Gayatri mantra and the importance of doing sandyavandanam.
I guess there are umpteen sites, web pages, and blogs to do that. But if you insist see here (pages are in Tamil)
What I want to share with you here is the information about a program that has been going on in our town – Cuddalore, Tamilnadu – since the year 2001 We call it "Sri Koti Gayatri japa yagna". (One crore gayatri japa yagna)
It works this way.
Every year the program starts on makara sankranthi (also called Pongal by tamilians). We conclude with a gayatri homam on the first or second Sunday of June.
The participants will do special sankalpa and do Gayatri japa 1008 times a day. This they continue till they achieve one lakh twenty thousand as the target. (Of course one is free to exceed this target). Those who participated in the japa yagna are eligible to take part in homa. 8 kinds of homa dravya will be offered in 1008 avruthis taking 3 1/2 hours. Following that the program for that year comes to an end.
During this japa kala some discipline is to be followed.
One should not partake anything cooked by sthrees in their menstrual periods.
Some others are desired but not a must:
Avoid watching movies and TV
Do Brahma yagna.
Do namaskarams to your parents daily.
The expenses for the homam are borne by the participants themselves. We do not go about collecting donations for this purpose though whatever comes without asking, we accept.
Each person saves one rupee for every day of japa. Finally the money saved is brought and submitted at the venue. But so far we have NOT made this a condition for participation. The single most important factor for eligibility is the japa count. If you have not completed the target by the time frame, contact to check your eligibility. Of course all are welcome to come and witness the homam and if possible do some volunteer work.
If you are interested in conducting similar programs in your place we are happy to assist you with details of how to go about it. If you want to participate in the program in our town, complete the enrollment form given below (copy paste) and send to us we will send you the e copy of sankalpa and the card to keep track of the japa count.
1. Name:
2. Address:
3. Age
4. Contact phone number
5. Contact email id
6. Veda shaka
7. Gotra
8. Do you know agnimukham? Yes or no
Feel free to ask doubts. Mail me at drtvasudevan@gmail.com
Regards,
Dr.T.Vasudevan, Co-ordinator, Sri Gayatri Japa Yagna Samiti